Spider (leg) veins are often very visible and difficult for many people to live with. Laser vein therapy will leave the veins invisible on the skin's surface giving you your legs back!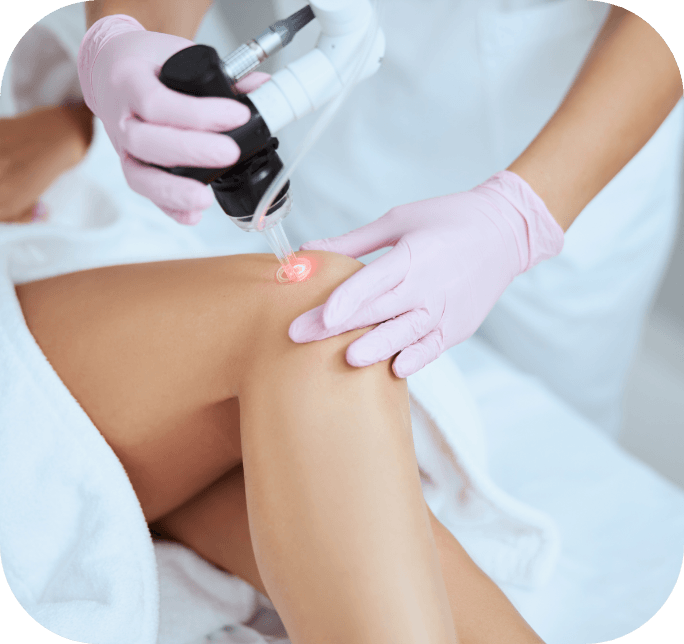 How to prepare for my session?
If you are a laser skin revitalization patient, please be aware of the following:
Ensure all makeup and lotions are removed before your session.
Stop unprotected sun exposure, use of tanning beds and tanning creams on the treatment area at least 4 weeks before your appointment.
How soon will I see results?
Many patients experience immediate improvement in the appearance of their veins following the treatment followed by continued improvement over the next week or so.
Expect the treated area to be pink, red or swollen for one to two days after your session. This is a normal process. Your body will reabsorb the red blood cells in the treated area over the next two weeks.
Bigger veins on the legs may take longer to resolve, maybe months. DO NOT evaluate the vessels for 4-6 weeks.
How many sessions are recommended?
1 to 4 treatments may be necessary depending on how large the veins are.
Following your laser treatment session, it is common for your skin to be pink and swollen for up to 48 hours. You can take Tylenol to help with the pain and you can also apply ice to the treatment area.
You are allowed to apply makeup to the treated area. Use SPF 45 sunblock every day to the treated area. Avoid the sun and anything else hot or abrasive to the treated area for two weeks. Compression stockings are available (20-30 mm/Hg).
Avoid any extreme activity for 3-5 days after your treatment.
Hemosiderin staining which is a brown pigmentation of the skin may occur after the treatment but usually resolves. By avoiding the sun, you will decrease the risk of permanent staining.
Do not use hot showers, saunas, pools, hot tubs, cosmetic products or shave until the area is no longer red. Keep the treated area cool and well moisturized with creams and lotions.
Do not expose the treatment area to the sun, tanning beds/lamps, exfoliating products or peels for 4 weeks following your session.
Doing this can result in pain, redness, blisters, infection, peeling, scarring, discolouration or burning of the skin.
Avoid any extreme activity for 3-5 days after your treatment.
Do it for you.
Book a consultation today by filling out our online form. You can also contact us by phone or email: