Scar removal is often a difficult process that includes surgical removal, not anymore! Lasers can be used to break down scar tissue leading to new, beautiful and healthy skin reproduction. 
Discomfort level
Moderate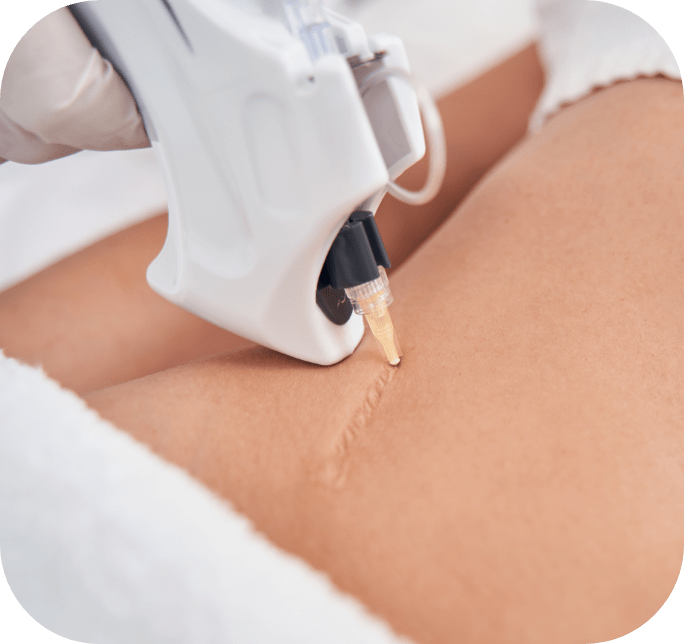 How to prepare for my first session?
If you are a laser skin revitalization patient, please be aware of the following:
Ensure all makeup and lotions are removed before your session.
Stop unprotected sun exposure, use of tanning beds and tanning creams on the treatment area at least 4 weeks before your appointment.
Sessions typically take less than 30 minutes, depending on the size of the treatment area. 
At the beginning of your procedure, you will be given special glasses which will shield your eyes from any hazardous reflected laser light. To start the treatment, a handpiece will be maneuvered over the treatment area sending energy into your skin. You may feel mild discomfort to no discomfort during the treatment depending on the care option we select.
How soon will I see results?
Over the first 6 weeks after your session, you will start to see an improved appearance of your skin's tone and texture. The scars will start becoming even in colour and texture, blending naturally into the skin surrounding the scar.
If needed we will provide you with post-treatment guidelines to manage pain. Redness and/or swelling may occur at the treatment site but it typically goes away by the third day.
How many sessions are recommended?
Approximately 3-7 sessions are recommended. Follow-up treatment sessions will be booked 3-6 weeks apart.
Typically patients feel mild discomfort during the treatment, but talk to your provider about pain management options.
Directly following your session, redness, swelling and/or brown debris on the skin's surface is common in the 2-24 hour period. This could last up to 3-5 days.
You can continue your regular daily activities on the day of your treatment. If a more intense treatment is performed you may need a few days to heal.
Do it for you.
Book a consultation today by filling out our online form. You can also contact us by phone or email: